Arts on the Virtual Block: Meet the Artists
Online Gallery ~ May 8 to May 29, 2020
Celebrating the creativity of our studio apprentices, crew, teaching artists, staff, board and extended AOB family, the focus of this show is to be together as a community during this unprecedented time of change. See our gallery archive here.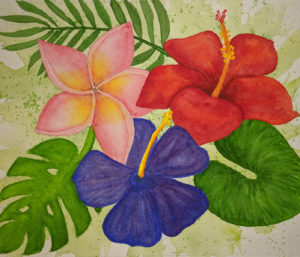 Allie Berg is fairly new to the world of watercolor painting. She has spent the past year and a half exploring the medium and discovering her style. She is drawn to the way that the transparent nature of watercolors can be used to create artworks that are both luminous and saturated with color. She works at the nonprofit CREATE Arts Center as its Director of Communications & Outreach, and teaches occasional classes. She lives in Washington DC with her husband, two sons, and pet tortoise.
As a newer painter, Allie's artwork reflects that she is still learning and exploring the art of watercolor. From landscapes and waterscapes, to birds, plant, and flowers, Allie experiments with a variety of subjects and techniques as she works to improve her craft.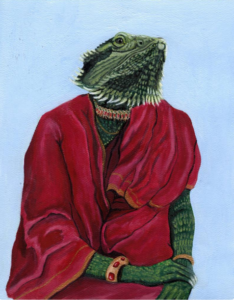 Anjali Wells is an Art Educator for Montgomery County Public Schools. Anjali was the site coordinator for Explore, Create, Connect, a program made possible by a Trawick Foundation Grant that collaborated with Arts on the Block, Impact Silver Spring, and Clancyworks Dance company. Anjali also works as a contributor to the Smithsonian Freer Sackler Museum's Freeman, MCPS curriculum writer, and MAEA professional development facilitator.
"My work focuses on the cross section of many aspects of my identity. As a biracial woman navigating multiple cultures within our contemporary american culture, I seek to offer an alternative approach to the way we consume and relate to common imagery and ideas."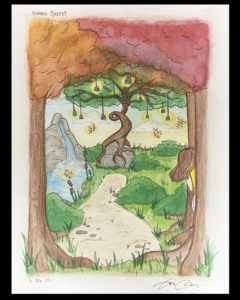 Arin Nicole Cruz: "I am a sophomore at Quince Orchard High School and have participated in the Arts on the Block's PYAO program for 2 sessions. One in the summer and another during this school year in the fall. I dabble in a fair amount of art forms but I mainly just draw traditionally, or recently, digitally. I have two Instagram profiles where you can see more of my photography and art pieces.

"I have submitted 5 pieces total, each in my most commonly used mediums. Two pieces done digitally, one watercolor piece, one traditionally drawing, and a photo I took during a walk outside."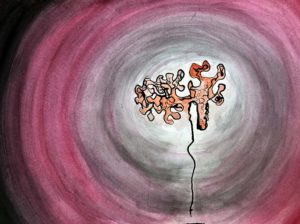 Aselin Flowers is a mixed media artist based in Maryland. In her works, she examines the complexities self, literally and metaphorically. She received her BFA and Masters of Art in Teaching from the Corcoran College of Art and Design. She is the current Director of ArtReach GW community arts organization in Washington, DC and has taught art education in public schools and community settings for the past eight years.
"This body of work explores the dynamics of loneliness. Living in this present society, people are so obsessed with being socially engaged that the thought of being alone becomes scary. When I'm in solitude my senses are heightened and I experience extreme feelings of fear, anxiety, depression, exhaustion, and defeat. Unlike other paint mediums, that are bolder and more pronounced, I use watercolor, a thin, transparent medium because it pairs with the elusiveness of my thoughts."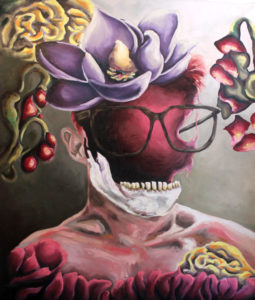 Originally from Western NC, Austin Hill studied Studio Art and Psychology at Wake Forest University. His work focused in oil paintings, life drawing, and printmaking, with keen interest in art centered on queer identity and LGBTQ experiences.
"Can you remember a time that you walked into an arts space and saw a portrait of a drag queen, as tall as you are? A painting that expresses the experience of a queer person with a mental disorder? My artistic vision seeks to share a visual narrative of my lived experiences as a queer man, with themes such as gender norms, body image and queer iconography. "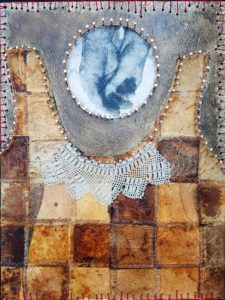 Carien Quiroga, an award-winning multimedia visual artist and educator, uses her artmaking and teaching practices to engage with creative communities both locally and internationally. Social Justice, mindfulness and collaboration are at the core of her artistic work and teaching practices.
"My experiences as a woman, mother and daughter form an intrinsic part of my artistic consciousness. Mixed media work, as social commentary, reflects my ongoing interest in the female voice both personally and universally. This body of work entitled "The Mother Effect" is a response to personal, and anonymously shared stories about mother figure relationships and continues as an interactive online project. A grant from the Arts and Humanities Council of Montgomery County supported the project. "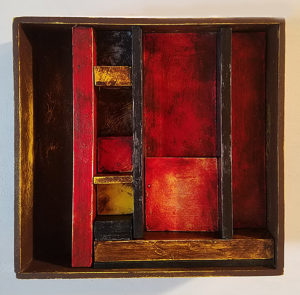 Clayton Evans was born and raised in New York City. He was inspired to make art from an early age due his exposure to it around the city, and in his household where his mother and older brother were both practicing studio artists. His oldest brother graduated from Pratt Institute. Clayton received a BA in Studio Art from Lafayette College ('89) and an MFA from MD Institute, College of Art ('94). He has been a studio artist, youth worker, art teacher and arts administrator for the past 28+ years.
"No matter the series or content I am working on, I tend to explore the border between order and chaos. I appreciate formal, linear elements, but I also like the element of surprise and chance. I often return to making "Urban Artifacts" – art objects that tell parts of a story about living in an urban environment. This series of work is influenced by Brownstone architecture found in Brooklyn, NY."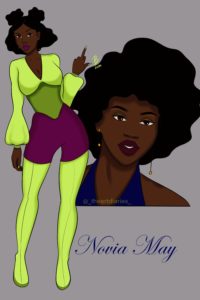 Jada Batts: "I am a southeast DC artist that focuses on representation in comics.
"The Clicker is a new mystery/adventure story I'm writing about a girl discovering the mystery behind a fire she survived as a child. Novia May is the protagonist of the story and a lot of my recent work is focused on developing her into a solid character."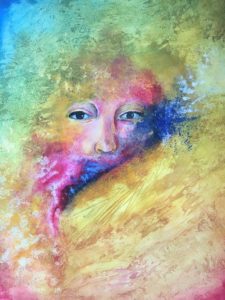 Karen Moreno-Acero: "I'm from Bogota, Colombia and came here 8 years ago to D.C. I'm 18 years old attending Duke Ellington school of the arts as a senior. I've been a apprentice at Arts on the Block for two years.
"These are my pieces that I did in the last two years. The pieces are symbols and representation of myself, each with different meaning but is my feelings in different situations in some areas in my life. Each of the showing freedom and empowerment. "
Karina Mosser was born and raised in Russia and is still influenced by the vast and mysterious landscapes of that country. Karina emigrated to the US in the 1990s. She has been an artist and art teacher since then, most recently living and working in Washington, DC.
"My work is semi-abstract and provides a sense of peace and traquility."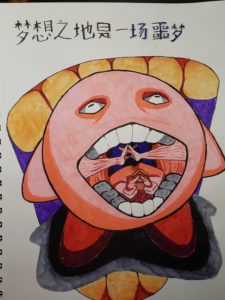 "Hello I am Kristian Talaid. I am a highschool Junior at Walter Johnson highschool. I have been apart of PYAO for 3 sessions as one of the PYAO apprentice.
"I am a Marylander and pop culture nerd that is invested in many different sub-cultures in pop culture. I hope you enjoy my art."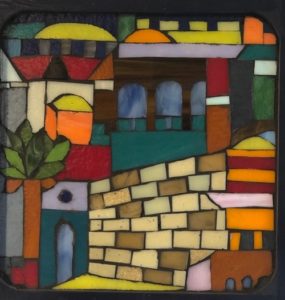 Lisa Horowitz: "I have worked in mosaics for 15 years, beginning as a hobby and developing into more serious study through classes and greater experimentation. My passion for mosaics arose out of a love of international folk art, particularly Central America and Mexico, and their vibrant colors and exuberance. Mosaics provide this rich and colorful palette along with the physical elements of texture, density, and depth. I enjoy working with different media including garden orbs, jewelry, and 'canvases.'

"I have included a sampling of different types of pieces, most completed within the last year or two. They comprise a textural, three-dimensional piece (Artifacts), artwork inspired by Laurel Skye and her evocation of Indian textiles (Jaipur Magic Carpet), a two-dimensional piece (The Old City), a recently completed garden orb (Galaxies), and some samples of jewelry completed for Arts on the Block (Baubles)."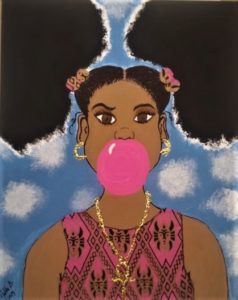 Malika Bryant is a visual artist and art teacher who received her BA degree from Ashford University. She currently resides in the Hyattsville, MD Arts District, where you will find some of her work in the shops along Route 1. Since childhood Malika has known that art and children would be a part of her life. After years of being in the corporate world, Malika wanted something new for her life and chose to follow her dream of teaching drawing and painting to children.
"I create art works that are representations of who and what I am and that is a proud woman of African Descent."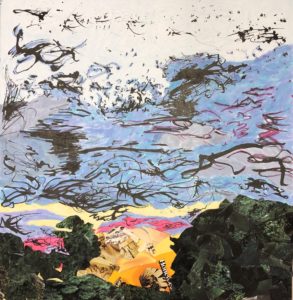 "Hello my name is Mara Dobbins, I work as an apprentice at Arts on The Block and I'm excited to share a few of my pieces in this virtual art show.
"My first piece titled Black Beauty has a medium of newspaper and phone book pages as well as black ink coated by many layers of gesso to hold the newspaper together. To finish it I used as well as acrylic paint to finish it by adding a shiny look. The second piece Titled Trees of Green has multiple mediums which include magazines, paint markers, and black ink. My inspiration behind this was a photo I had taken of the sky."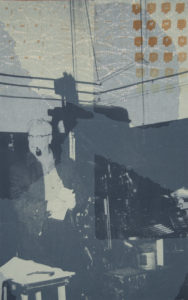 Melissa Ezelle has been teaching adult classes at Pyramid Atlantic in printmaking since 2013, and currently teachings visual arts classes at Montgomery College as a part-time instructor. She began her year of service as the 2019-2020 Americorps/Vista at Pyramid Atlantic in September of 2019, working on service projects related to capacity building and program management for the growing youth education and volunteer programs.
"As a traditional printmaker, I've created lithographs, intaglio prints, and "printstallations," for the past 20 years. The prints I am sharing in this collection are lithographs that I made a few years ago. Each piece depicts my grandfather and great grandfather, captured in their workaday lives. Several prints are printed on handmade paper, made from denim. Before blue jeans became a ubiquitous staple of our daily dress, denim served a more utilitarian purpose. The uniform of labor."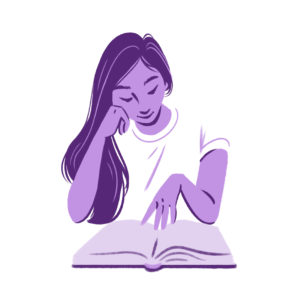 Naomi Giddings is a freelance illustrator from the Washington, DC area currently living in California. She graduated Summa Cum Laude from Washington University in St. Louis with a major in Communication Design and minors in Creative Writing and Art History & Archaeology. Naomi is mixed Japanese American and is interested in creating work that uplifts marginalized people and tells a story.
"My work in this gallery is a selection of recent pieces, ranging from surface design to editorial to storybook illustration"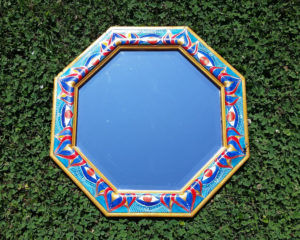 Natalie Ramirez is a mixed media artist and art educator in Montgomery County Public Schools in Maryland. Her background in youth development and community arts enables her to build connections with young artists. She has traveled around the world to research different cultures and study art in order to bring first-hand observations, artifacts and resources to her students. She hopes to inspire others to pursue their interests and seek answers to their questions.
Infinity Reflected is an idea that grew from the study of symmetry and nature. Natalie Ramirez was inspired to find balance through art practice. Her arrangement of color and use of repetition transforms found objects into art meditations. Destruction invites creation of functional reminders to return to the center and reflect natural light.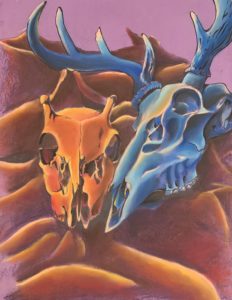 Renee Jun: "I am a junior at Walter Johnson high school and have been an apprentice at arts on the block for 2 sessions.
"The two pieces I have submitted are my favorite two works done at school."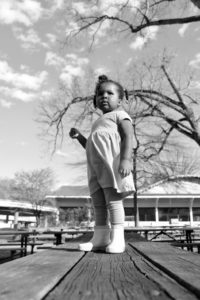 "Hi my name is Ruqayyah Aakil, I'm 18 years old and I am on the Studio Crew at Arts On The Block. My main form of art is digital photography. With my art I like to capture people, people in any state of being. It brings up a feeling of accomplishment that I rarely get to feel, and what hits even more is when I get to see the joy a simple image brings to someone else.

"This image is of my little sister, I call her the little giant because she is so small but has such a larger personality. "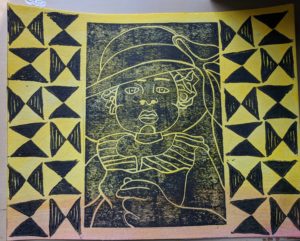 "My name is Salihah "Sasa" Aakil. I'm a 17 year old artist and writer finishing a gap year in Silver Spring, Maryland. I work in clay, paint, ink, words and recently music. I like hunting down stories, asking people about their experiences, and creating art after them. I am an award winning poet, growing artist, and aspiring bassist hoping to make my mark with the things I create.
"The following works are varied. "Sun Hat and Bowties", and "Sun Hat and Bowties a ghost" are both part of a series exploring printed figures and black history. "After Crescendo" and "B Diminished" were both born as a direct result of PYAO's card design phase and the inspiration it sparked in me. And lastly "Day 3" is a work created in collaboration with my 2 years old sister, about day 3 of quarantine and the things we learned then."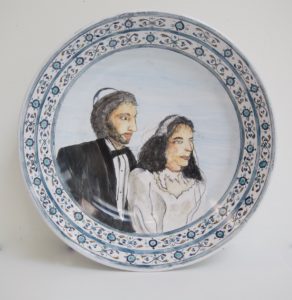 Serena Faye Feingold is a craft-based artist living in Washington, D.C., creating primarily with ceramics, painting, and community art. She grew up in a colorful Jewish household filled with objects of beauty and eventually began working in clay, metal, stone, and paint. Combining these mediums with narrative storytelling allowed her to begin making objects of ritual and memory that depicted her own family's heritage and the stories and histories of others as well.
"My work currently deals with memory and history – humorous and serious, real or imagined. These pieces are all crafted objects that meld technique and detail with narrative and storytelling. A story takes on a different life when you can hold its physicality in your hands and my work strives to be modern while speaking to an older method of memory keeping. "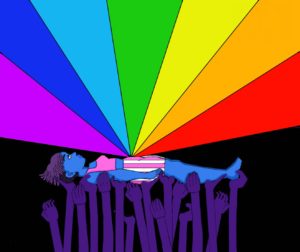 Shantisa Brooks: "I wish to use my art as a voice. An inner voice that speaks to the world through my creative process. My art represents my spirit, energy, and with it my journey. I hope to inspire other artist to share their emotions through the power of their own creations. As art is a window to the soul and a tool that helps you heal.
"My mini series is about self expression, healing and betterment. That expressing the process of your release is a liberating experience. Empowering me through my art to give my emotions and aspirations a post place to thrive.The artwork I present is only the beginning point of my journey and self healing. As I wish to share with others my vision of self expression and reconnecting with one emotions. Through art you can give yourself the freedom of self forgiveness, empowerment and growth."