Carroll Avenue/Quebec Terrace
CLIENT
Funded by a collaboration of CAQT community partners
PROJECT TITLE
Carroll Avenue/Quebec Terrace
PROJECT OVERVIEW
Design projects encourage youth leadership and community pride over a decade
Since 2009, Arts on the Block has been working collaboratively with the Carroll Avenue Quebec Terrace community to create works of art that visually transform the neighborhood, improve perceptions of safety, and strengthen community bonds.
Creating a Plan Together
With a gracious grant from Donors Investing in Arts (DIVAs), Arts on the Block engaged the CAQT community to undertake a youth-led planning process to improve the quality of life in their neighborhood. AOB apprentices collaborated with design professionals and community members, to address the priorities expressed in the CAQT Plan through arts-integrated design projects. Top issues identified by residents include: lighting, loitering, littering, crime, lack of community gathering places, lack of youth opportunity, and overall safety.
Lighting the Way for Public Safety
In addition to residents' concerns, public safety officials reported difficulty finding addresses in emergencies due to poor lighting. To rectify this situation, young CAQT residents, in partnership with Brooklyn-based Tillett Lighting Design, designed and created beautifully lit mosaic address plaques for Carroll Avenue Apartments. These mosaic and stained glass address plaques allow addresses to be clearly visible during the day and evening while adding color, light and personality to the building façades.
"I helped design these signs, and watching the kids put them together really made my heart feel happy because they were working on something that was going to be a part of our community for a long time." – Teen Mentor, Maria Gomez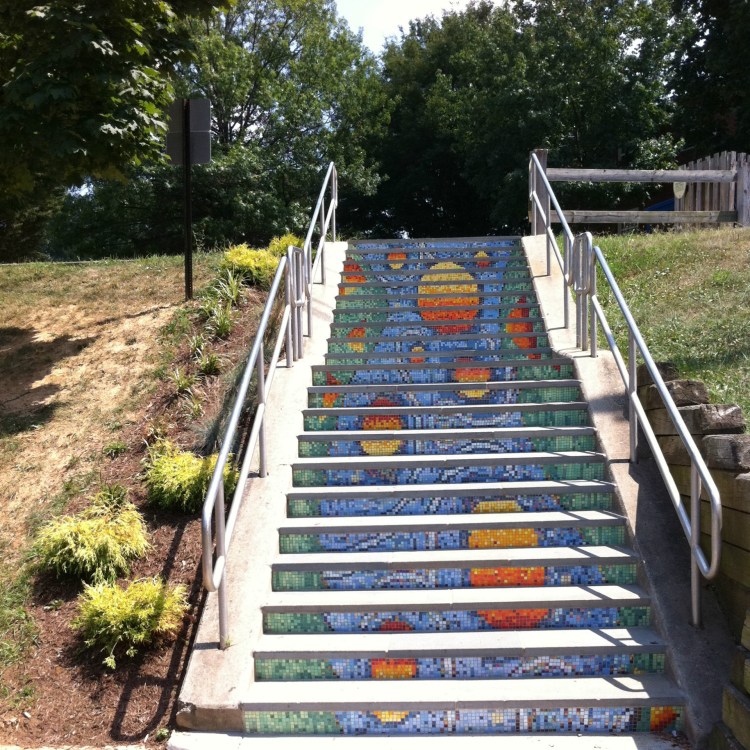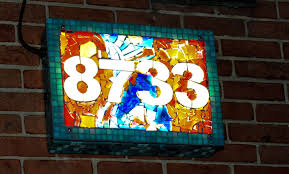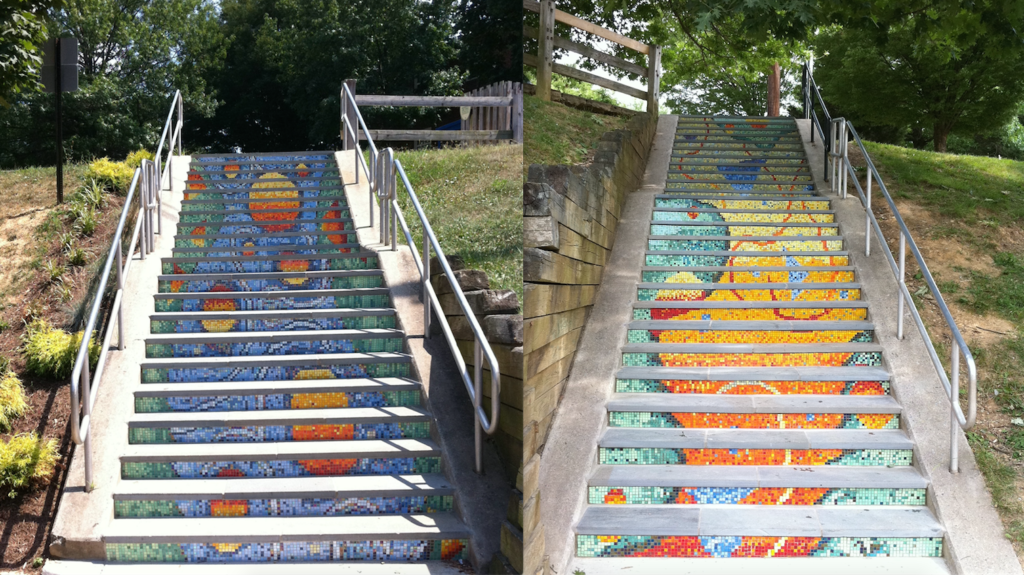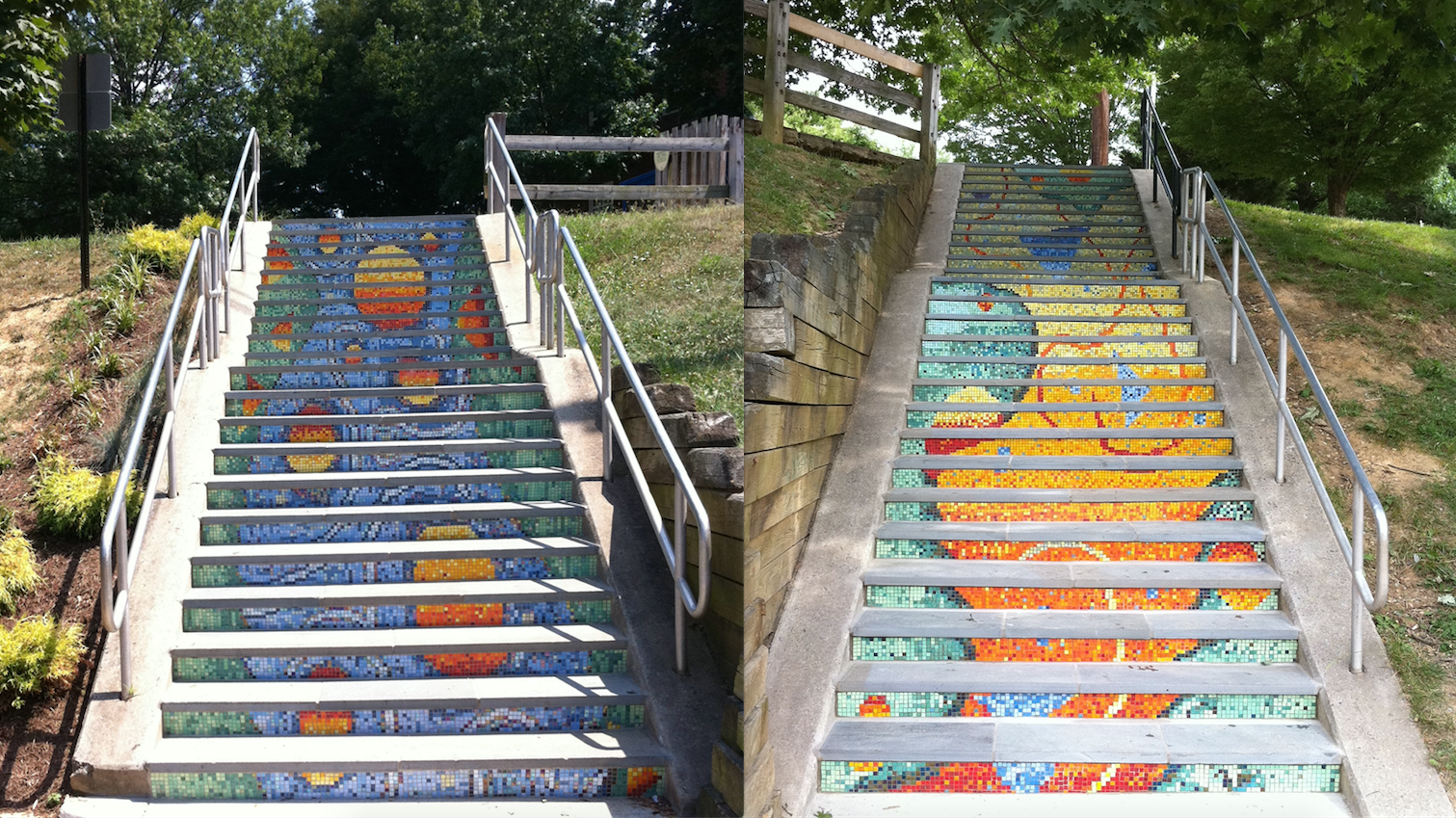 Two Staircases – One Step at a Time
Two centrally located staircases were the first project site identified and a priority for our long-time partner, the YMCA Youth and Family Services Community Center. Frequently gang-tagged, the staircases connect the Carroll Avenue apartments with Quebec Terrace above and provide an important foot traffic corridor between two housing complexes, the YFS Community Center, the nearby elementary school, and two bus stops that provide essential transit access to this working community. The staircases were poorly-lit and the site of nuisance behavior, including loitering, littering, and gang-related bullying, which limited the regular use and access by community members.
Under the direction of teaching artists, AOB apprentices and neighborhood youth designed and implemented a plan to integrate colorful abstract mosaics into the existing stair risers. Light poles were also installed near the stairs allowing community members to feel safe using the stairs at night. More than 200 residents and children attending the adjacent New Hampshire Estates Elementary School participated in laying out the tile per the design.
Upon completion, these once neglected staircases quickly became a source of pride for the apprentices and a meeting place for the community. Surveys taken before and after the project installation reported a 35% decrease in the number of residents who felt "very unsafe" and a 5% increase in the number of residents who felt "very safe" in their community.
"It is exactly initiatives like this one, conceived by Arts on the Block that demonstrate that despite obstacles, good things are accomplished when we work together." – Montgomery County Executive Ike Leggett at the stairs' dedication
Learning Green Design with the Lightscape Rain Garden
More recently, AOB was awarded resources from the State of Maryland and the Chesapeake Bay Trust to design and install a Lightscape Rain Garden at the YFS Community Center. According to the CAQT Plan, the community wanted a central, beautiful place to gather during the day and in the evening. The YMCA staff sought a location for outdoor activities, and a project that would support the STEAM learning objectives of their after school and summer programs.
Partnerships with the University of Maryland, Maryland RainScapes, Anacostia Watershed Society, and Friends of Sligo Creek allow youth to learn about local environmental goals, understand the science behind water conservation, and participate in hands-on design, installation and maintenance of a sustainable green space in their own community.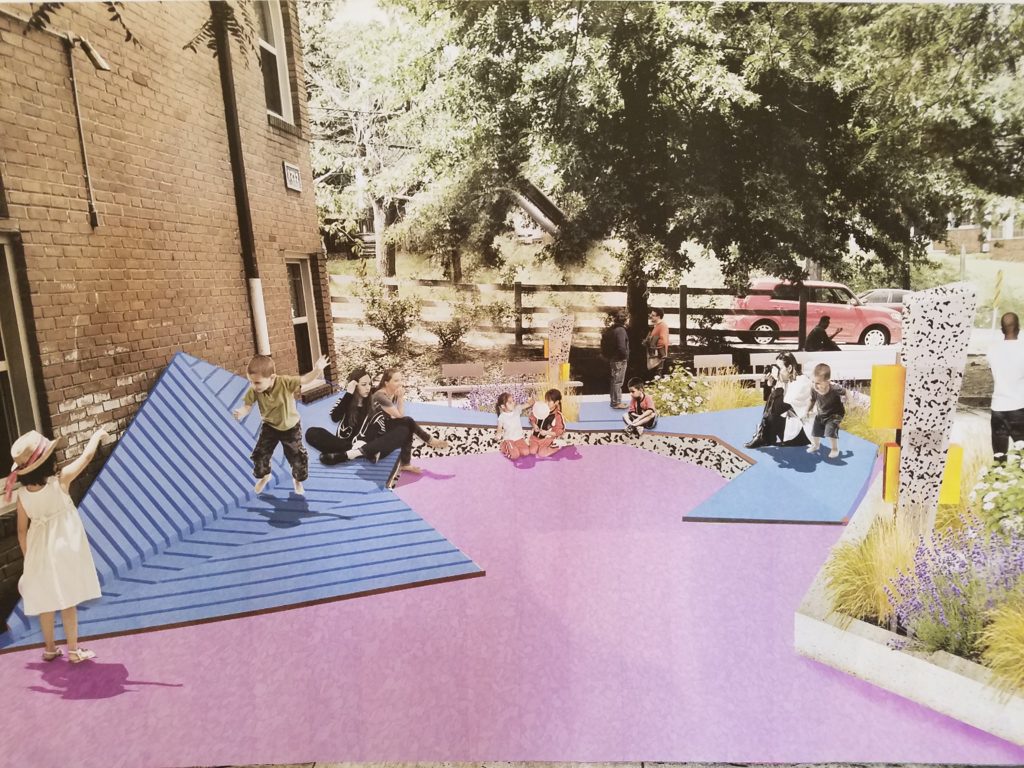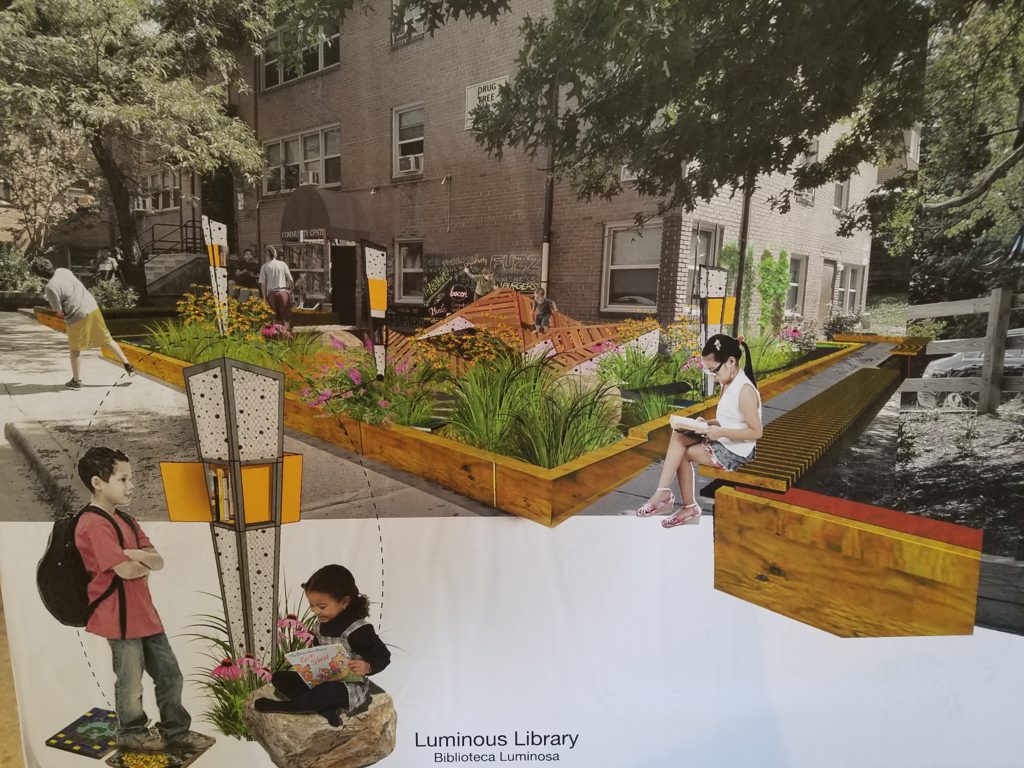 The Path Forward with Library Lanterns
In this new phase, the AOB design team will address priorities expressed in the CAQT plan, including language and literacy, wayfinding, digital information access, and environmental conservation. The proposed design is for two library lanterns 'planted' in the rain garden. Library lanterns combine familiar elements of "little free libraries", which encourage the free exchange of books among neighbors, with lighted landscape sculptures that provide walkway illumination.
Addressing the need for lighting, community connectivity, and educational opportunities, the library lanterns are the latest phase of this ongoing project that has contributed more than $500,000 in small-scale capital improvements and community programs over the past ten years. During both day and night, these colorful, unique library lanterns will infuse the community with a sense of connection and safety. Moreover, the library lanterns will exemplify how art, design, and technology can spark engagement, empower community decision-making, foster skill development, engender local pride, and will be a beacon for learning, as well as light.