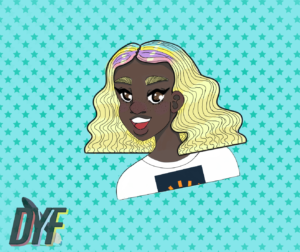 Alita Cartez a 23 year old Fashion Institute of Technology student and fashion intern. Who's current goal is to start her own styling and design business. Alita is a middle child to a five person family. Her mother and father own their own family business Cartez Tailors. At a very young age Alita had a knack for art and was naturally drawn to it. She would always draw "mock designs" of clothes for their family's customers. Unfortunately Alita's family fell on hardships during the earlier parts of her childhood as her family's business at first struggled to gain customers in a competitive market. She grew up in a low-income environment and often had to help out in the shop after classes. Alita was quite frequently made fun of for that very reason. As she wore recycled clothes and couldn't play with other children after school. Due to the stress from her peers and  home life she began misbehaving. Skipping out on school, home responsibilities, and getting into fights with her peers. Mr. and Mrs. Cartez began to notice the shift in their daughter's behavior and had devised a plan to help their daughter. Alita's parents had surprised their child with a sewing machine from their shop. Mrs. Cartez encouraged her to bring to life the designs she always saw her daughter make. While Mr.Cartez explained to Alita he'd give her sewing lessons after school as well instead of always working in the shop. The young girl's parents told her that she could always design and alter her life the way she wanted it to be. All it took was a needle and some thread. Alita was overjoyed and she hugged her parents delight. The young girl quickly got to work paving the way to her future career path not only as a stylist but also as a designer. See her resume.
"As an artist I want my artistic journey to help encourage other artists that it is always possible to mold your life to fit your goals and aspirations. Through hard work and dedication you can always expand as an artist. Learning new skills and trades along the way to help perfect your craft. Showing that no matter what hardships you face you can overcome it with your art. Teaching you that you can design tailor your life. After all it is called a lifestyle."
Alita Cartez was created by Studio Crew Artist Shantisa Brooks. Learn more about Shantisa's work at AOB here.