A REPORT TO OUR COMMUNITY — MARCH 2022
What Did AOB Do In 2022? For this year in review, we got a bit ambitious. Our Studio Crew produced a short flipbook and a video showcasing all of the fantastic commission work completed over the last year- culminating with the excitement of our 20th Anniversary!
COMMUNITY REPORTS OVER THE YEARS
For our 2021 Year in Review, we tried a whole new approach – we asked our Studio Crew to interview each other about their favorite aspects of Arts on the Block and then edit them together in video form!
These videos were edited with special thanks to our commission partners at Chase for the use of their footage and for the gracious time and talent of our creative network partners at Adobe for leading our learning in Premiere Pro.
Check out the videos below to see what happened when Crew members Justin Walker, Jada Batts, Kalil Hunter, and Angela Cruz asked fellow emerging creatives about their most loved AOB experiences!
The challenges of 2020 were confronted head on by Arts on the Block, guiding our team and young creatives through our foundational 8 Studio Habits, we faced:  
ADVERSITY ALTERED THROUGH ADAPTATION
RECESSION CONFRONTED BY RESILIENCE
SOCIAL INCLUSION SCALED BY STRATEGY
DISCONNECTION DETERRED BY DIRECT DIALOGUE
CHALLENGING CONFUSION WITH COMMITMENT to reveal AOB's
OUTLOOK AS ONWARD AND OPTIMISTIC
ENCOURAGEMENT & ENDURING ESTEEM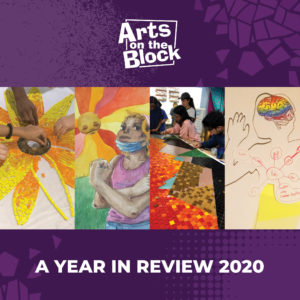 2019 was a year focused on growth and our move to the Silver Spring Library, occupying the entire first floor with a gallery and store, a large digital design and mosaic studio, and management offices. Today, the new location provides: 
Expanded high-quality job readiness and creative workforce development training to develop creative youth and young adults as young leaders in their communities and strong candidates in the creative industries.
Studio-based educational programs focused on intergenerational and cultural connections
Popular arts experiences that welcome neighbors and visitors to downtown Silver Spring for fun creative activities linked to the ancient art of mosaic and the newest forms of digital design
A mission-driven gallery and store that takes advantage of the high walk-traffic generated by the library and anticipates the future stop of the Silver Spring Purple Line.