Celebrate 20 Years of Arts on the Block!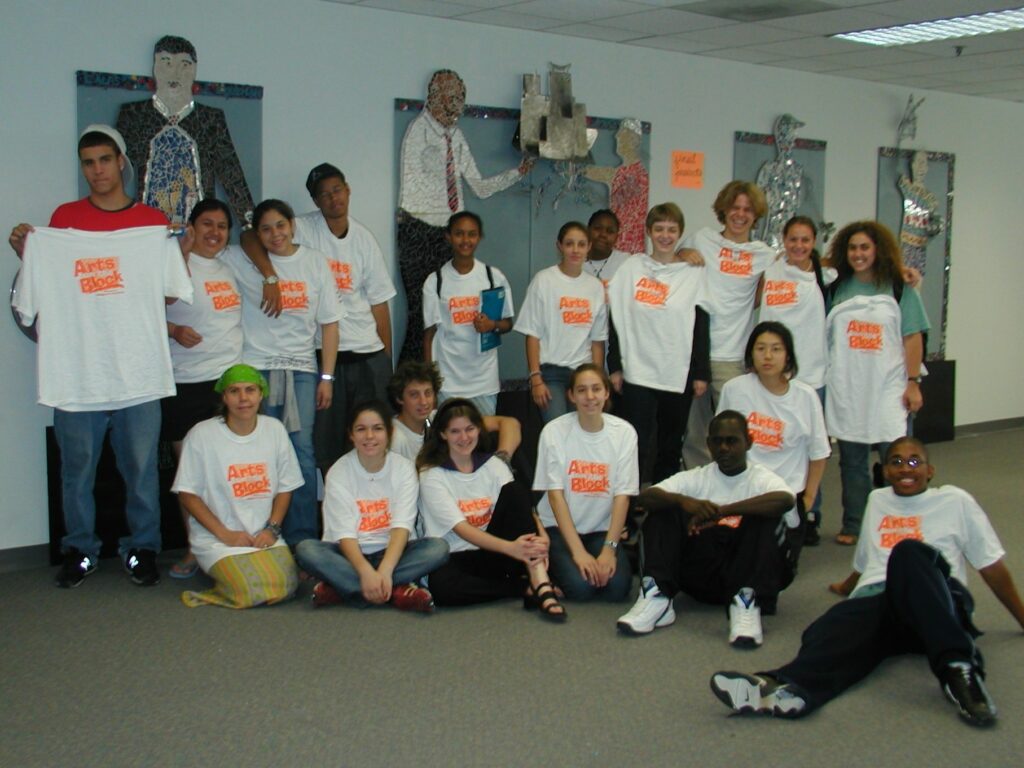 Founding Teaching Artist, Carien Quiroga, with the summer 2003 cohort of Pour Your Art Out (PYAO) youth artists. AOB's flagship program was initially only offered over the summer during which time participants known as "apprentice" artists learn transferable work-life skills. As the program grew, the name changed to The Apprentice Program (TAP) and is now offered year-round and recognized as one of the only hands-on, youth creative workforce programs in the region.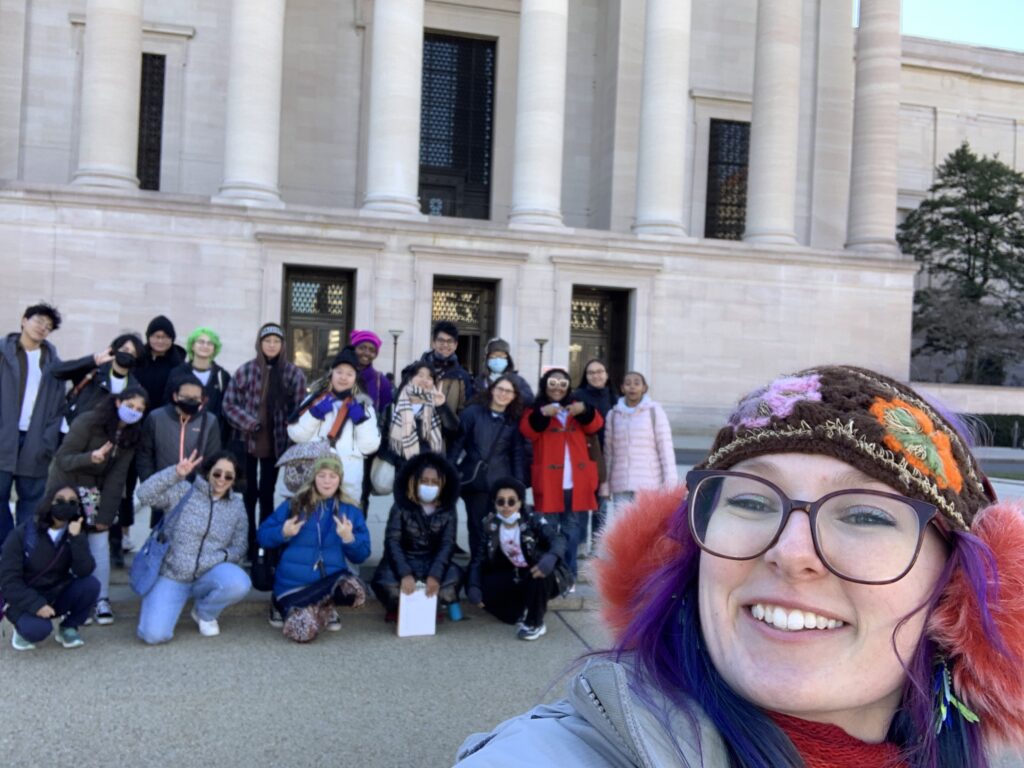 Winter 2023 TAP apprentices with Lead Teaching Artist, Kelsey Joyce, on an inspirational and educational field trip to the National Gallery.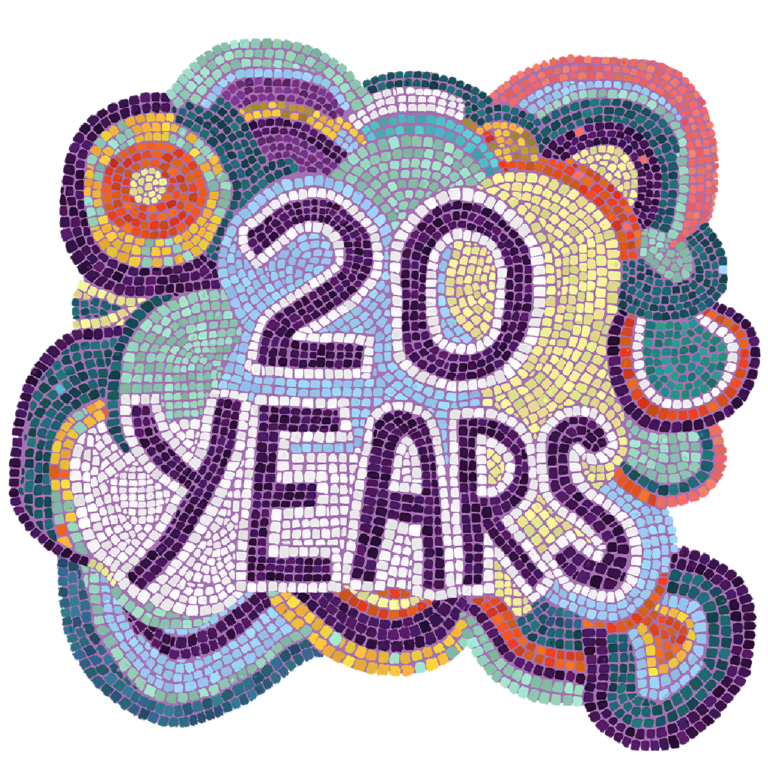 20 Ways to Celebrate & Support AOB's 20th Anniversary
Follow us on Facebook, Twitter, Instagram, YouTube, or LinkedIn! Your simple click helps AOB touch more lives. Like, share and comment on our posts, or post a picture and note on social media about your experience with AOB! 
Forward one of our newsletters to a friend. This builds connections and unlocks new possibilities. Next time you receive an email from AOB, think about who in your circle needs to know about us. 
Email us a story at aob@artsontheblock.com about your experience with our programs and/or workshops that we can add to our website. 

We pour hours and passion into our work. Your experience is a heartening and powerful testimony that helps us spread the word about not only what we do, but why we do it.

Gift one of our very cool youth designed products! AOB retail is open! When you purchase AOB items, you are not only helping a great non profit, you're also supporting local creative youth who design the products via our learn and earn programs.
Volunteer a few hours of your time and expertise. Do you have a special skill or interest, a couple of extra hours, and a passion for creative youth workforce development?  Let us know by sending a quick email to aob@artsontheblock.com

. We're always in need of assistance with marketing, Facebook ads, and fundraising.

Review our workshops, programs, or events on Yelp. 

Well-placed reviews influence people at decision-making moments. Your review counts. If you write one, multiply your impact by cross posting it on a couple sites.

Introduce AOB to a similarly-minded nonprofit or company that you are already a part of. Partnerships are powerful. Help AOB connect with others who are doing similar work. A personal introduction removes barriers and makes collaboration more efficient and effective.
Think of an influencer in your sphere who should know about AOB and make an introduction. 

Do you know a blogger, podcaster, or other influencer whose focus is the arts, youth, community, or apprenticeship? Your personal introduction could result in a guest post or other opportunity to multiply our efforts.

Donate to AOB. Remember, even small donations help! 
Commission a mosaic! Do you have a tabletop that needs a bit of pizzazz? Perhaps you have a business

and would like your company's logo beautifully mosaiced and displayed at your office. Beautify an

entire community

that you are in the process of developing with public art created through our creative youth workforce development programming.

Take a Workshop! AOB offers a new Visual Art Studio (VASt) workshop in a different medium at our easy to access studio in downtown Silver Spring every month! Come join the fun! 
Teach a Visual Art Studio (VASt) Workshop. With so much demand, AOB is seeking Master Teaching Artists who love to share their craft while getting paid. If you would like to propose an arts workshop (block printing, painting, mosaic, textiles, etc.) to teach at the AOB studio, contact Deputy Director, Clayton Evans at cevans@artsontheblock.com. 
Join our Arts Advisory. Are you a professional artist working in the DMV and surrounding area with special connections to the art community that you would be willing to share with AOB and our emerging creative professionals? If the answer is "yes", then get in touch to join our esteemed Arts Advisory of internationally recognized and exhibited artists!
Present a Block Talk! Block Talks are presentations given by professionals in various fields who share their experiences with our Apprentices and Crew allowing our young creatives a chance to ask questions and get a first hand account of what particular creative industry careers and real world experiences can be like.
Volunteer as a Mentor or a Board Member. What better way to shape the future of your community than by mentoring a young creative or by helping guide a youth-serving organization?
Donate a piece of art to be auctioned/sold at an AOB event. Proceeds from the sale of sold or auctioned art go directly to support the work of AOB and our young emerging professionals. The act of this also models for young artists that their own creative work may not not only have monetary value, but can also be used to support philanthropic efforts. 
Start a Facebook Fundraiser or other Fundraiser for AOB! AOB has a ready-made platform for creating personal fundraising pages to share with friends, family, colleagues, etc. Have your own online FUNdraiser for AOB. 
Attend an event and bring a friend. The more, the merrier! Each time a new person walks into the AOB studio, they are introduced to a creative hub of activity, fun, and inspiration that sparks their creativity, welcomes their return, and helps our community grow.
Host an event at our studio. AOB has a great space for community meetings, board events, private gatherings, and more! With metro and bus accessibility and garage parking across the street as well as a loading dock for ease of event organizer use, the Studio at 900 Wayne Avenue is a fun and unique option for get-togethers. 
Show your AOB Pride! Our young creatives are some of the best designers in the DMV area! So, grab your AOB T-shirts and wear your heart on your sleeve with an AOB designed T!