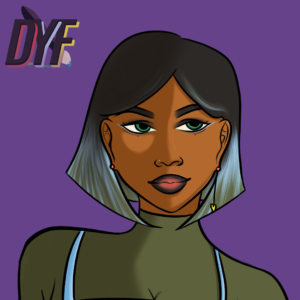 This is Iya Rhodes. Iya is a 19 year old cosmetology student who wants to become a professional hair and makeup stylist. Iya dreams of owning her own salon. She was born in Jacksonville, NC. Iya gets her love of hair from her father, who is a barber, and strives to be like him one day. Her love of makeup came from her late mother, who loved makeup and painting as much as Iya did. See her resume.
Iya Rhodes is a North Carolina based cosmetologist who has an eye for crazy colors. Her interest in fashion and beauty sparked her creative fire. Iya began her career shortly after starting high school, beginning with creatively themed hair shows. Her interest in hair sparked her interest in makeup, and then fashion. 
Her work has a respectable fire to it, and is inspired by her life. With a love of painting, she thinks of her clients as canvasses instead of muses. Her favorite colors to use are blue, lime greens, yellows, pinks, reds, and black. She loves to explore different themes and tones throughout hair and makeup.
After her first hair show in 2015, the producers of the show have since invited her back every year. Her work has caught the attention of professionals who wish to take her under their wing when she graduates college. Her work is mainly showcased on her Instagram.